M-TEC Medimeas Tissue Embedding Cassettes
Medimeas Tissue Embedding Cassettes are moulded from special high-density acetal polymer that is completely resistant to histology reagents. Specially designed flow through slots maximises fluid exchange and drainage. User-friendly large labelling areas ensure readability from a distance. Available in eleven colours.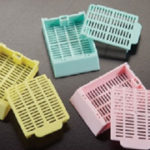 M-TEM Medimeas Tissue Embedding Base Moulds
Medimeas Tissue Embedding Base Moulds have well-rounded corners for optimum paraffin ribboning. Made of high-grade stainless steel with highly polished surface facilitates easy removal of paraffin block. Compatible with standard tissue cassettes.