MKS-DS Medimeas Digital Knife Sharpener )Shandon Type) with a microprocessor controller is designed for more fast and fine sharpening of microtome knives. The knife is sharpened on a rotary glass plate with universal knife holder. The equipment makes use of dual centre less grinding technique for uniform grinding and the complete instrument is covered with plexiglass dust cover for safe, dustproof operations. The equipment has an electronic controller for speed control and a special timer to set the sharpening time.
FEATURES
SCM Program Control, easy operation
Multipurpose Knife Holder
Automatic Disc Levelling
Buffer Adjusting Mechanism for turning knife
Convenient loading and unloading for knife….
Low noise operation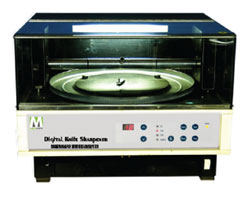 SPECIFICATIONS
| ATTRIBUTE | VALUE |
| --- | --- |
| Knife Length | 110-250mm |
| Thickness | Less than 13 mm |
| Grinding Angle | 22-45 deg (half angle 11-22.5 deg) |
| Timing Range | 1-60 mins |
| Knife Interval | 5,10,25s and unilateral |
| Noise | 60dB |
| Dimensions | 586 x 555 x 426 mm |